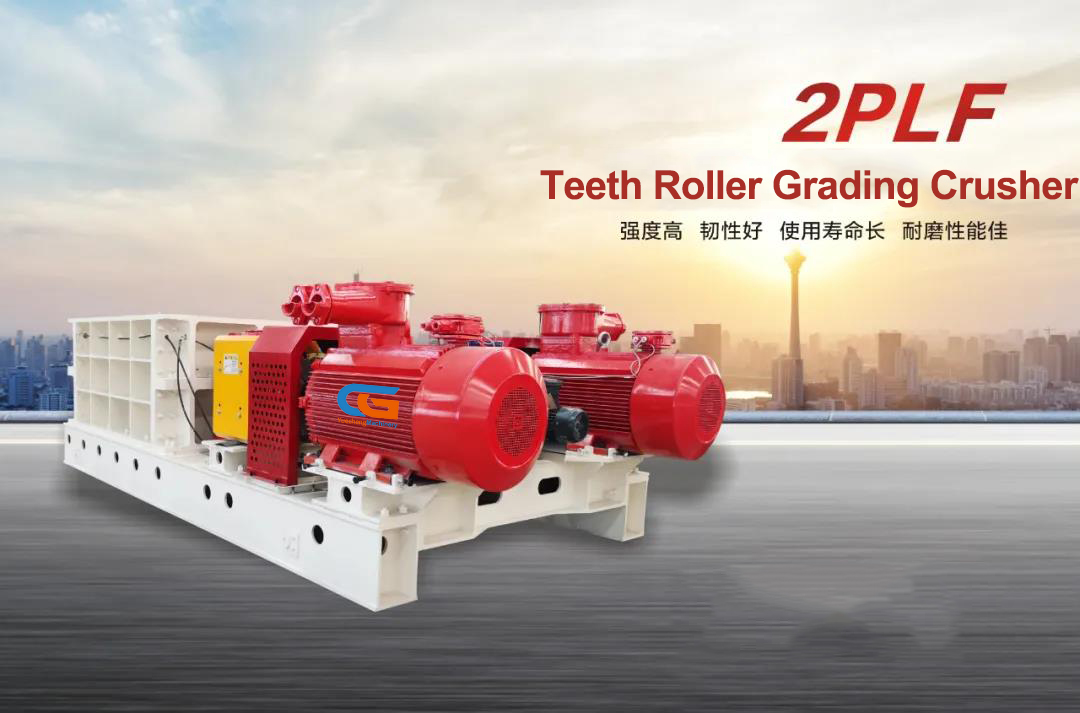 Structure and features:
Coal crusher mainly consists of motor, torque-limiting fluid coupling, reducer, teeth roller, and main body.
1.The crusher applies to shear and stretching crushing technology to virtually eliminate over crushing phenomenon. The small volume, lightweight special for underground and open-pit mine coarse crushing and medium crushing operations.
2.Teeth roller is the critical component of crusher, the counter-rotating teeth roller grading the small size material, the bulk material will be crushed by the crushing teeth and substantially increase production capacity.It uses a unique new design structure and special material formulation. which has high strength, good toughness, long life, and good wear resistance.
3.Crushing roller bearing lubrication applies a centralized lubrication system, so it will have low labor intensity. It is safe, reliable, convenient, and also a unique design was applied in terms of bearing seals, which is very reliable.
4.With self-aligning drum gear coupling shear pin,torque-limiting fluid coupling, electrical multiple overload protection, keeping the machine safe and reliable.
5.PLC control system was used to start the crusher, can realize automatic lubrication. machine overload protection and other automatic control. There is a network interface, which can monitor the system of feeding, nesting, and other equipment's running condition, to realize a high degree of automation.
150 Series grading teeth-roller coarse crusher
Model
2PLF-150/250
2PLF-150/300
2PLF-150/350
2PLF-150/400
Inlet size(mm)
≤1500
≤1500
≤1500
≤1500
Output size(mm)
≤300
≤300
≤300
≤300
Capacity(t/h)
≤4500
≤5500
≤6500
≤7500
140 Series grading teeth-roller coarse crusher
Model
2PLF-140/200
2PLF-140/250
2PLF-140/300
2PLF-140/350
Inlet size(mm)
≤1400
≤1400
≤1400
≤1400
Output size(mm)
≤300
≤300
≤300
≤300
Capacity(t/h)
≤3000
≤4000
≤5000
≤6000
120 Series grading teeth-roller coarse crusher
Model
2PLF-120/150
2PLF-120/200
2PLF-120/250
2PLF-120/300
Inlet size(mm)
≤1200
≤1200
≤1200
≤1200
Output size(mm)
≤300
≤300
≤300
≤300
Capacity(t/h)
≤1500
≤2000
≤2500
≤3000
      100 Series grading teeth-roller medium crusher
Model
2PLF-100/150
2PLF100/200
2PLF100/250
2PLF100/300
2PL-100/350
2PLF100/400
Inlet size(mm)
≤350
≤350
≤350
≤350
≤350
≤350
Output size(mm)
50-150
50-150
50-150
50-150
50-150
50-150
Capacity(t/h)
280-850
350-1000
500-1500
800-2000
1000-2000
1500-2500
80 Series grading teeth-roller medium crusher
Model
2PLF-80/150
2PLF-80/200
2PLF-80/250
2PLF-80/300
Inlet size(mm)
≤300
≤300
≤300
≤300
Output size(mm)
50-150
50-150
50-150
50-150
Capacity(t/h)
300-500
400-800
800-1200
800-1500
60Series grading teeth-roller medium crusher
Model
2PLF-60/120
2PLF-60/160
2PLF-60/200
Inlet size(mm)
≤300
≤300
≤300
Output size(mm)
50-150
50-150
50-150
Capacity(t/h)
200-400
250-600
300-800